ySense - Start earning cash online NOW
ySense is a comprehensive and versatile central hub for all things 'get paid online'. Having an account at ySense gives you access to loads of offers such as getting paid to play games, take surveys, watch videos, click on ads, etc. but it does a LOT more besides. This is a real hub into a WORLD of making money online.
ySense has more than earned its dues for being featured at GetFreeMoney.com having been paying members since 2007 when the company was previously known as 'ClixSense' (it was rebranded to ySense in 2019).
You'll start to earn money pretty much immediately from the moment you sign-up at ySense just by starting to complete your profile. It'll help ySense to target your earning opportunities and surveys better. But it's a LOT more than just surveys (although there are a LOT of surveys worth good money for quite short completion times) at ySense. Each 'mini-portal' at ySense (AdGate, Adscend, Lootably, MyChips, RevU & many more) open up their own selection of ways to get free money online.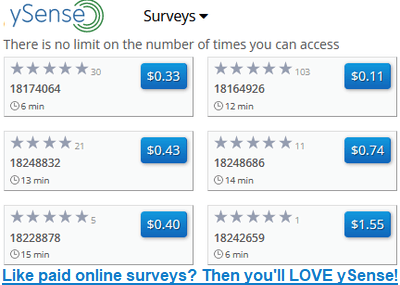 It's easy at first to not know quite where to start with ySense because it's a VERY busy website with MANY ways to get free money online in loads of different ways. If you're in the mood for a particular activity, ie. playing games, clicking on ads, taking surveys or taking on some fiendishly tricky quizzes, then you can select just what you want to see. It's kinda brilliant! But you'll enjoy finding your way around (we did) and realising you'll never be short of something to do. You won't run out of 'jobs' or money-making opportunities at ySense. And if you can refer a few mates then they'll reward you for that too.
Getting paid out by ySense is another plus-point for this program with a LOT of satisfied members posting regular confirmation of payout, although ySense has gotten to the stage of trustworthiness by now that it's an established brand so no worries there. There are many different ways you can choose to get paid including Payoneer, PayPal, Skrill and even local shopping gift cards specifically targeted for where you live. We found that clever and a nice touch.
ySense has to be a 'a must try' if you're here to get free money online. It's easy to earn real money, there are no country exclusions and you can see your cash earnings accruing quickly in your account balance (we made money within a few minutes and we were taking our time, looking around). Get signed-up and get earning with ySense.
Take Me There