PUT YOUR CASH AWAY! Your money's no good in here. Get Free Money is a directory of free money offers. Whether you want to get free money to visit websites, get paid to read e-mails or even get free cash to play games - we have it all.
Freebies for December 2023 - more free stuff below

ySense - Start earning cash online NOW
ySense is a comprehensive and versatile central hub for all things 'get paid online'. Having an account at ySense gives you access to loads of offers such as getting paid to play games, take surveys, watch videos, click on ads, etc. but it does a LOT more besides. This is a real hub into a WORLD of making money online.
ySense has more than earned its dues for being featured at GetFreeMoney.com having been paying members since 2007 when the company was previously known as 'ClixSense' (it was rebranded to ySense in 2019).
You'll start to earn money pretty much immediately from the moment you sign-up at ySense just by starting to complete your profile. It'll help ySense to target your earning opportunities and surveys better. But it's a LOT more than just surveys (although there are a LOT of surveys worth good money for quite short completion times) at ySense. Each 'mini-portal' at ySense (AdGate, Adscend, Lootably, MyChips, RevU & many more) open up their own selection of ways to get free money online.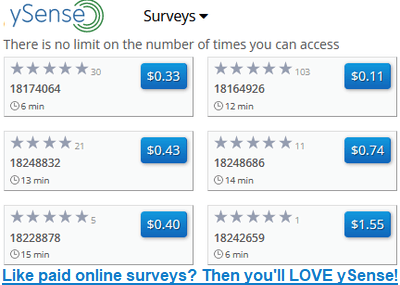 It's easy at first to not know quite where to start with ySense because it's a VERY busy website with MANY ways to get free money online in loads of different ways. If you're in the mood for a particular activity, ie. playing games, clicking on ads, taking surveys or taking on some fiendishly tricky quizzes, then you can select just what you want to see. It's kinda brilliant! But you'll enjoy finding your way around (we did) and realising you'll never be short of something to do. You won't run out of 'jobs' or money-making opportunities at ySense. And if you can refer a few mates then they'll reward you for that too.
Getting paid out by ySense is another plus-point for this program with a LOT of satisfied members posting regular confirmation of payout, although ySense has gotten to the stage of trustworthiness by now that it's an established brand so no worries there. There are many different ways you can choose to get paid including Payoneer, PayPal, Skrill and even local shopping gift cards specifically targeted for where you live. We found that clever and a nice touch.
ySense has to be a 'a must try' if you're here to get free money online. It's easy to earn real money, there are no country exclusions and you can see your cash earnings accruing quickly in your account balance (we made money within a few minutes and we were taking our time, looking around). Get signed-up and get earning with ySense.
Take Me There

Honeygain - Get Paid For Doing Nothing!

Honeygain only requires a very brief write-up. It's about as easy a passive-earner you're likely to come across online because once signed-up, there is literally nothing to do.
Honeygain is an attractive, fun-looking site that can use either your phone, computer or whatever is connected to your internet. Honeygain then uses only bandwidth that you're not using (and limits itself strictly) and somehow it benefits other people. So it's a win-win. It's all explained on Honeygain's website.
Honeygain is worth joining and a bit of fun. Every day you will receive a mystery amount of free credits/money to add to your pile. Honeygain is ultra-legit (we get paid quickly at cash out) and you can choose to receive your money via crypto/Bitcoin, PayPal, etc.
Note: using the links on this page to join Honeygain will credit you with a $5 free starting sign-up balance. Signing-up 'cold' (ie. without a referring link) means you don't get the free fiver (we found that out the hard way) so ensure you use a referral link when joining.
Take Me There
AttaPoll - USA paid online surveys (USA Only)
AttaPoll is one of the USA's best-known online surveys sites, paying its North American members to answer simple surveys that provide vital data to marketing companies. AttaPoll's own description does a good job of describing what they offer USA visitors who want to make some extra money online:
"Start getting paid for answering occasional online surveys. Keep your earnings for yourself or donate to a charity, it's up to you."
Short, medium or longer surveys - again, you choose your own style at AttaPoll including how many surveys you want to receive in a day or week. AttaPoll continue the 'actually-worth-reading' sales-pitch:
"AttaPoll connects you with a wide range of USA companies and organisations that are looking for your views and opinions. By taking online surveys you helping them develop new products and services and improve existing ones."
AttaPoll's various payment thresholds are low so you can cash out quickly. If you're in the USA and enjoy taking surveys of any length or time for paid rewards then this is a great way to get free money online at the moment.
Take Me There
Get Paid - Earn Real Cash For Easy Activities
Get Paid is a reliable rewards program available worldwide that pays its members with 'coins' for completing various tasks. These coins can then easily be exchanged for real money into your PayPal account or if you prefer, you can be paid with Bitcoin, Paysafecard, Perfect Money or WebMoney. Alternatively, you can exchange your points for online gift cards from lots of different retailers including Amazon, iTunes, Starbucks and Walmart.
Get Paid has been around forever (since 2005) and enjoys a very trustworthy reputation. Get Paid reckon they offer 'the fastest way to make money online' and you'll be doing so by completing surveys (including daily surveys) and clicking ads. There are also contests and sweepstakes to take part in.
When we said Get Paid is 'reliable', it's a BIG understatement and we can confirm we've received several payments from Get Paid by completing semi-fun tasks, watching some vids (some of which are very weird!), clicking links, etc. and also by doing the typing project (see 'Business Cards' at Get Paid - it's a really easy way to earn lots of coins!).
We have ALWAYS received our earnings (via PayPal) in just a few hours so we genuinely consider this to be one of the best 'get paid to earn' programs that exist on the internet. You'll have fun doing many various tasks and you WILL earn real money/goods if you take part. If you're in a position to introduce other people to join Get Paid too then they will reward you with more coins.
Take Me There
Festival Casinos - free bonus promo's
It's clear FestivalCasinos.com is going to provide more free money promo's than any other site during December 2023. The promotions already sound exciting with thousands of free slots spins and no deposit required cash bonuses. There's a lot on offer so you can pick-n-choose which free money promo's look most enticing to you.
Latest to hit the market is a cool no-deposit-required bonus of $30 free to play the slots at SlotsPlus running throughout December 2023. Use the EXCLUSIVE promo code MXO30 to get your free $30.
No deposit is needed to use these promo codes - just play the free stuff, cross your fingers and hope your luck brings you a free cash sum. We do it ourselves and frequently win totally free payouts. And if you like what you see then see our links to also-recommended free slot spins and poker freerolls at Everygame - all ways to win real money, risk-free.
FestivalCasinos.com's collection of freebies is growing bigger day-by-day throughout the month and Festival Casinos is determined to do it in style with new risk-free bonuses and freeroll tournaments, free spins on the newest 2023 game releases and massive prize competitions and prize draws.
It's all free to check-out and visitors from ALL countries are encourged to take a look for the best free online casino promotions that shouldn't be missed this year. Bookmark FestivalCasinos.com to see brand new promo's added to the site daily. If you are completely new to online casinos and you'd like guidance on the best casinos to join, we recommend visiting our partner-site JoinOnlineCasino.com for a quick-guide to the best places to play in your own currency and country.
Take Me There
Just Free Stuff - Daily Freebies (USA Only)
Just Free Stuff is a USA-only site (sorry, rest of the world!) that puts you in touch with various freebies - anything from books to arts and graphics to games. The site is updated every day with new free stuff and you'll be overwhelmed with just how many things you can put your hands on.
There's an excellent newsletter - free to receive (if you're a US resident!) with hundreds of thousands of subscribers. At the end of October 2023 Just Free Stuff is giving away a 238Pcs Emergency Survival Kit and First Aid Kit to a lucky newsletter subscriber. There's always a cool prize to be won every month just for being signed-up to receive the newsletter (which is worth getting if you are US-based) - you never know when YOUR name might pop-up and win an amazing prize.
Just a few more of the free stuff categories you'll enjoy looking through at Just Free Stuff: apps, beauty, CD's, contests, designer clothes, games, magazines, post-cards, posters, recipes, software, stickers and so much more... we couldn't list it all here. You'll see it all displayed neatly for yourself when you visit Just Free Stuff's website.
Take Me There
Getflix - Free VPN Service (For Two Weeks)
There are LOADS of good reasons to use a VPN and not just from a privacy and security viewpoint, which of course IS also an important reason for having access to a VPN. Watching your favorite TV shows, movies, etc. when a proxy/VPN is required is the main reason most people use a free VPN and there are a lot of similar services doing the rounds. We've tried several of them.
Getflix promises set-up in 'just a few seconds' with NO software to install. Getflix SmartDNS and VPN allows users from all over the world to easily unblock and access popular global streaming video and music services. Watch the latest movies, TV series, kids shows, classic titles and sports events from your computer, phone, smart TV, media player, games console and more! And you can do it completely free for TWO WEEKS at Getflix which is enough for some people. Others go on to pay less than $5 per month to keep it going. It's your call! It gets even cheaper if you pay longer than monthly.
Take Me There
---
A-Z list of ALL free stuff currently live at GetFreeMoney.com.
Remember that not all offers are available in all countries (a few are US-only) and most in fact have some restrictions, so take a peek at the terms before wasting time signing-up for a freebie that you can't then receive. Check back soon for new freebies - we are on the hunt. Subscribe to our newsletter to be kept informed of new free offers.
All freebie links below will take you to the relevant page at GetFreeMoney.com where you can read a bit about the free stuff offer and decide if (a) you qualify for it, and (b) if you want to receive the freebie.
Free Online Resources
Free Stuff
Games & Gambling
Money & Rewards
Webmaster Tools